Research project

Connecting consumers and producers to rebalance farmers' position through Ambassadors trainings
Contact our expert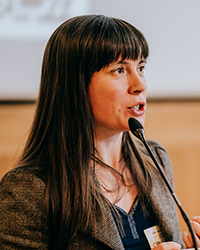 Main research question
As agri-food supply chains have become longer and more globalized, farmers sell their products to intermediaries and lack contact with the end consumer. This centralization within the agri-food systems causes distortion of the relations in the system, such as unequal access to capital and information leading to unequal market power. The goal of COCOREADO is to enhance the position of the farmers, as an individual actor, as a key player in innovative food supply chains, and as a supplier for public procurement. COCOREADO will gather young people in rural areas and encourage them to co-create innovative solutions. In this way they can overcome obstacles for farmers, address consumer needs and improve the conditions for the sustainable public procurement of local and seasonal food.
Research approach
COCOREADO applies a three-fold approach to maximize impact. First, we take existing innovative initiatives across Europe as the point of departure. A wide range of such initiatives will be scrutinized from the perspective of the farmer's position in supply chains and public procurement. They are then translated into good practices and hands-on approaches. Second, through a network of "ambassadors", COCOREADO will connect farmers, food chefs, food heroes, IT specialists, leaders of local youth movements. We invest in trainings, educational materials and decision support tools. Third, young people in rural areas are encouraged to replicate and co-create innovative solutions to overcome hurdles for farmers and respond to consumer needs.
Relevance/Valorization
First, COCOREADO offers a unique platform by bringing together a diverse group of actors in food chains across Europe. Furthermore, the focus on empowering young people to learn, share and co-create innovative solutions has the potential to serve as a leverage for the implementation of innovative ideas. COCOREADO thus builds on a well-organized collaborative approach and contributes significantly to enhancing the position of the farmer, reconnect consumers and producers and the development of sustainable food procurement.