Theme

Marine production and the marine environment

Marine production is gaining importance in the context of the 'blue economy', partly through the developments around 'blue growth' and 'blue biotech'. Within ILVO, fisheries and the sustainable exploitation of the marine environment remain an important line of research.
ILVO IS COMMITTED TO:
The pressure on natural resources and space at sea is increasing; therefore, strict monitoring of European, federal and Flemish regulations is increasing in importance. ILVO is expanding the sector-oriented research into a systems vision of fisheries and marine production. Within this vision, valorization, international contributions, and collaborations with companies and policy play a major role.

Healthy fish stocks
Healthy fish stocks are the basis for socio-economically viable fisheries. ILVO works on high-quality data collection of all aspects related to the Belgian fisheries and the continual improvement of methods of analysis and modeling. Our strength is that we bring together data from a large variety of data sources and make them available in a standardized high-performance database.

Fisheries and technical innovation
Innovation in the fisheries sector is essential. The new Common Fisheries Policy (CFP) and the corresponding landing obligation ('discard ban'), the demand for sustainably-caught fish, the need for more efficient fishing techniques, the high operating costs and the fear of limited access to fishing grounds are important driving forces. ILVO advocates for the use of dialogue and targeted and innovative scientific research to make the sector more sustainable and to advise Flemish and European policymakers.
Adjusting to the landing obligation and addressing the environmental impact of fishing are major challenges for the sector. Specifically, ILVO's technical research for fisheries focuses on reducing the impact of the current beam trawl, continuing to develop electric pulse fishing and passive fishing, and research on the survival of discarded fish. New ideas regarding better spatial planning of fisheries to reduce discards and reduce seabed disturbance are being developed. The use of the fishing fleet as a new data source that can give real-time recommendations for an optimal spatial distribution of fishing activities, will receive more attention in the coming years.

Toward sustainable aquaculture
Fish, crustaceans, shellfish, seaweed and more: the sea's natural resources are no longer able to meet the global demand for seafood. The main focus of aquaculture production is currently in Southeast Asia: countries with strong economic growth and a growing internal market. Within Europe, there is a fear that the influx of inexpensive farmed fish from these countries will decrease. That is why Europe is striving to increase its own aquaculture production.
ILVO is conducting research into the development of sustainable aquaculture, on land and at sea. Sustainability is central here: reducing the impact on the environment, reducing the dependence on fish meal and fish oil by developing feeds based on alternative sources of protein and fatty acids, increasing product diversification, developing new production processes and systems, and resolving acute problems at the company level.

Product monitoring
Fisheries products must meet requirements for food safety and quality. ILVO develops biological, sensorial, physical, chemical and chromatographic methods to monitor freshness and quality. Food integrity and authenticity are also increasingly important in ILVO fisheries research. One new aspect is the focus on new so-called "emerging contaminants" in the marine ecosystem for that have no existing standards yet. Examples include the accumulation of new antifouling and toxic metals, micro- and nano-plastics in foodstuffs and new biotoxins that are emerging as a result of climate change. Endocrine disruptors, algae toxins and pharmaceuticals are also possible areas of research.
Blue biotechnology

Blue biotech is one of the five sectors of the EU 'Blue Growth' initiative to further exploit the potential of the European oceans, seas and coasts. ILVO supports the further development of blue biotechnology. The sea represents a protein and gene pool that is barely known, let alone exploited. Marine organisms such as bacteria and fungi can be useful in biotechnological processes, such as the conversion and degradation of various substances. The immense gene and protein pool itself can also form an important new marine resource with an important valorization potential. Enzymes, biomaterials, intermediate compounds for medicines, etc. can be developed into products for food, human health or for industrial applications.
Blue technology also contributes to the concepts of the circular economy (zero-waste) and bio-economy. Micro and macro algae represent an important component of marine biomass, with a wide variety of valorization products (from pharmaceuticals to feed). The CO2 storage capacity of algae is also an asset and a possible way to combat climate change.
Quality of the marine environment

In the pursuit of sustainable exploitation of natural marine resources we must evaluate the quality of the marine environment in a scientific way. Many factors have an impact on this quality, which calls for an integrated approach. ILVO focuses on:
the study of biological, toxicological and chemical effects of human activities on ecosystem components and the habitat;
the study of different types of pollution on the marine ecosystem.
In addition to the conventional measuring and analysis methods, we also focus on new techniques such as sediment profile imaging, DNA metabarcoding and metagenomics.
Contact an expert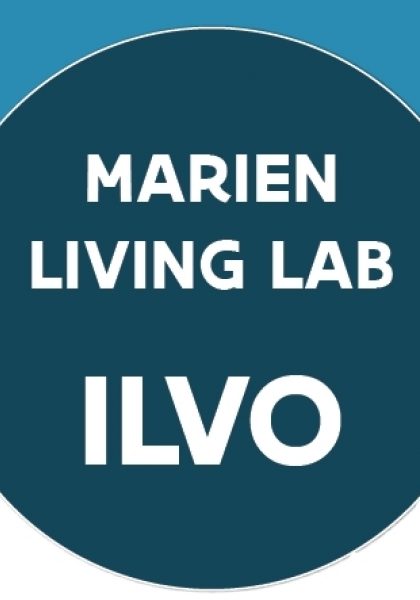 Marien Living Lab
Contact Marine Living Lab
Contact