Press release

Turning barn air into organic fertilizer or nutritious animal feed: How feasible is circular processing of nitrogen from livestock buildings?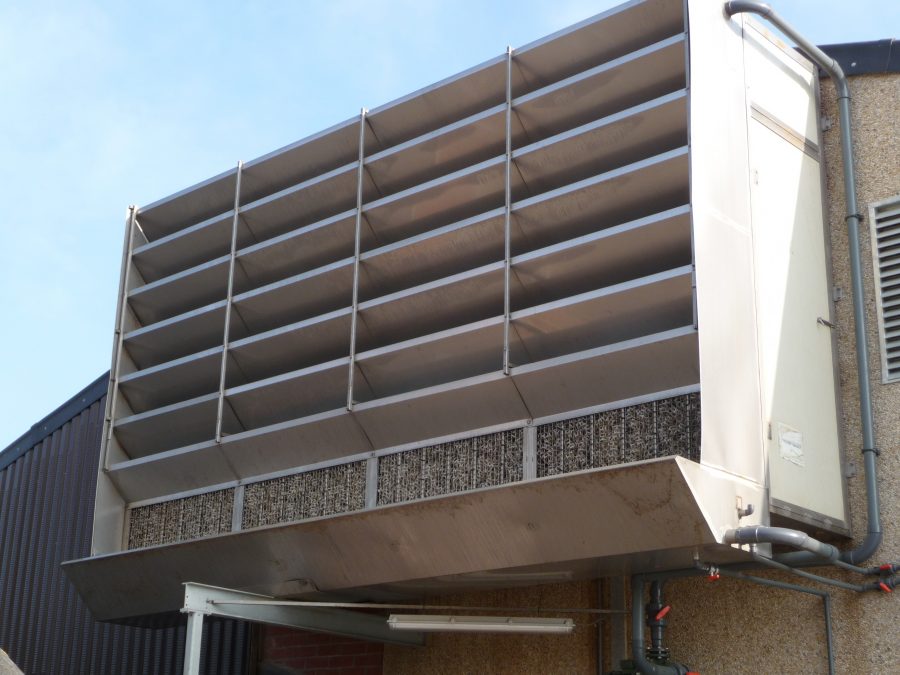 Can you turn nitrogen from barn air and manure into a raw material suitable for the production of organic fertilizer and/or animal feed? Flemish Minister of Agriculture and Food Hilde Crevits has asked ILVO to investigate whether that process is feasible in practice. What are the possible risks involved and what are the points of attention for a safe and environmentally friendly application? Does it effectively deliver environmental benefits? And which method or application is the best?
Flemish Minister of Agriculture and Food Hilde Crevits:
"In light of the nitrogen problem, it is important that innovative avenues are at least vetted by experts. ILVO has been given the task of looking at the extent to which the ammonia filtered from stable air via air scrubbers can lead to new raw materials and whether this can produce a win in various areas. ILVO will closely examine various scenarios."

From manure fumes to air scrubbing to protein
The manure (cellars) in pig and poultry barns emit particles of ammonia, a volatile nitrogen compound. When polluted barn air floats outside without being filtered, the livestock industry contributes to excessive nitrogen precipitation in nature reserves. In modern stables, most of the nitrogen can be filtered out of the stable air by an air scrubbing system. What is completely new are scientific ideas about a potentially interesting way to reuse the captured nitrogen via fermentation.

Trapped nitrogen as growth medium in fermenter

Until now, the nitrogen collected in air scrubbers has been used directly as mineral fertilizer. The newer thinking is that this nitrogen can also serve as a growth medium for useful bacteria in a controlled fermentation process. The result is then a microbial biomass ("single cell protein") that can then be considered for higher-value applications.

However, there are still some technical questions about that process. What other nutrients do the bacteria in the fermenter need to grow, and do cheap residual flows from the food or chemical industries qualify for this? ILVO is also going to estimate how much additional processing and energy is needed to produce usable biomass, and what hurdles a potential processor has to overcome before getting the end product on the market.
Conversion to organic fertilizer
Slow-acting, organic fertilizers are in high demand. They can also increase the organic carbon content in the soil, improve soil quality and stimulate soil life. Microbial biomass from the fermentation of nitrogen has this potential and could thus partly compensate for the declining availability of blood meal and horn meal. But again, questions arise: What are the advantages and disadvantages of this new organic fertilizer, e.g. compared to existing fertilizers? And is practical application in the short term feasible within existing regulations?
Conversion to protein for animal feed
The protein source in feeds for pigs, poultry and cattle must contain a correct amino acid balance. Classic soybean meal scores very well in that respect, but its use is under pressure due to its link to large-scale forest destruction in South America. There are now indications that microbial protein could be a balanced and easily digestible alternative, and could therefore replace the proportion of soy in feed for pigs and poultry (to a lesser extent for ruminants). In addition, it could potentially increase animal immunity, thus contributing to further antibiotic reduction in livestock production. Again, however, there are questions about the economic and practical feasibility of scaling up and the regulations surrounding it, in addition to pertinent questions about the quality, stability and safety of the microbial protein in a balanced ration.

Does it make sense?
Perhaps the most pertinent question is the overall picture: does it make sense to start converting nitrogen into other molecules in this way? Does it effectively deliver a win for the environment and climate? In order to assess this, ILVO will estimate the environmental impact of the new organic fertilizers and protein sources from the microbial biomass in comparison to that of existing fertilizers and protein sources and all related production processes, using a life cycle analysis.

Study should bring clarity soon
ILVO puts an interdisciplinary team to work, assisted by a committee of experts from other knowledge centers and the Flemish universities. The aim is to have a report ready after eight months with an estimate of the general feasibility and usefulness of the scenarios studied.