Your capabilities
You have a Master's degree in a field like (bio-)engineering sciences, sciences, computer science, data science, or equivalent.
If your degree comes from outside Belgium, we ask that you obtain equivalence recognition. You can apply for this at NARIC Flanders (NARIC-Vlaanderen).
You have experience with the different facets of modeling;
You have experience with R and/or Python;
You have experience with analyzing complex data and (basic) statistics;
You have an interest in soil and climate issues;
You are a good writer with experience in reporting and verbally explaination of research results.
Personal skills
You can communicate in a clear manner with project partners and colleagues;
You have a critical and analytical mind and can integrate information easily;
You like to work in a multidisciplinary, goal-oriented way within a team and you can work independently just as well;
You think strategically, take initiative and work proactively.
Ideally, you…
Have good oral and written knowledge of Dutch and/or English;
Are familiar with agricultural research and have knowledge of soil processes;
Have experience in designing and/or building IT applications;
Have experience with GIS;
Have a PhD. Although this is not a requirement, but can be helpful if you have built useful skills and knowledge during your doctorate.
We offer
We offer you a full-time, unlimited contract with a competitive salary based on your degree. Your wage is based on the Flemish government salary scale A165 or A166 (depending on your degree). You can calculate your gross and net monthly salary, vacation allowance and end-of-year bonus via https://www.vlaanderen.be/werken-voor-vlaanderen/het-salaris. Relevant experience can be taken into account as monetary seniority.
You get a varied, challenging and socially relevant job in a dynamic environment with attractive working conditions and development opportunities. Hybrid (tele)work is possible according to the nature of the work.
You also get hospitalization and a group life/pension insurance, commuting allowance (bicycle - public transport), meal vouchers (maaltijdcheques) (7€/day) and a total of 35 vacation days based on last year's performance (ILVO's Own Capital is a private employer). The week between Christmas and New Year is also offered as paid leave.
What do you do as a Data Analyst at ILVO? What is your job description?
You will be part of a motivated research team about soil within the Plant Sciences Unit and you will also work closely together with other enthusiastic scientists working in various fields with specialities in plant models and hydrological models, life cycle analyses, socio-economic research and data management. You will also work together with specialists from the Flemish Department of Agriculture & Fisheries who are responsible for the development of the parcel registration system and the soil passport.
Need more information?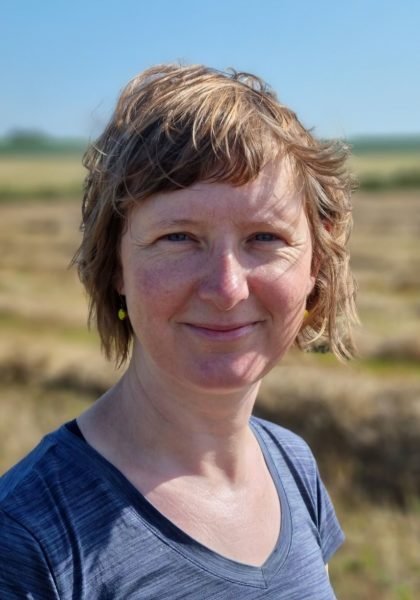 Greet Ruysschaert
Soil expert